About the company
Arta Bonyan Sanat
The management of this business unit that has been initiated since 2006, has been sought its professional activities with perseverance and more learning , and by looking at the high horizon and being involved more in the production and consumption market , has developed an extensive program and is ready for implementation. Creating a cohesive team of experienced and committed people in the company have caused to encounter simply to problems and left them behind and move in accordance with international standards in the field of production and sales. Arta team by relying on the Wise God, tries to institutionalize more honesty and technology and creativity and self-confidence in producing perfect and up to date production and always strives to supply the domestic needs, to be present in global market by offering competitive products. Arta Group, as a link in the production chain of concrete metal formwork equipment, by accepting the difficulties and shortcomings that currently exist in front of the manufacturers of concrete formwork equipment, will try to innovate and create employment and development in the production system of the mentioned products. Take sustainable steps effectively. We believe that if we do not adhere to ethical principles, because of the lack of clear understanding about customer needs and demands, we focus strongly on this issue as a frontispiece.
Values1. Honesty, commitment, and bias-free collaboration among team members. 2. Continuous training and keeping the staff updated with the latest knowledge. 3. Customer-centricity and respect for stakeholders. 4. Heightened focus on improving the quality of metal concrete formwork products.

visionAttaining the top position in the concrete metal formwork equipment industry in Iran in terms of design and production, as well as exporting concrete formwork products to regional countries.

MissionProviding optimal services and innovation in providing up-to-date products in the field of concrete metal formwork equipment manufacturers for ease of use and reduction in contractors' costs and full observance of standard treatment with customers.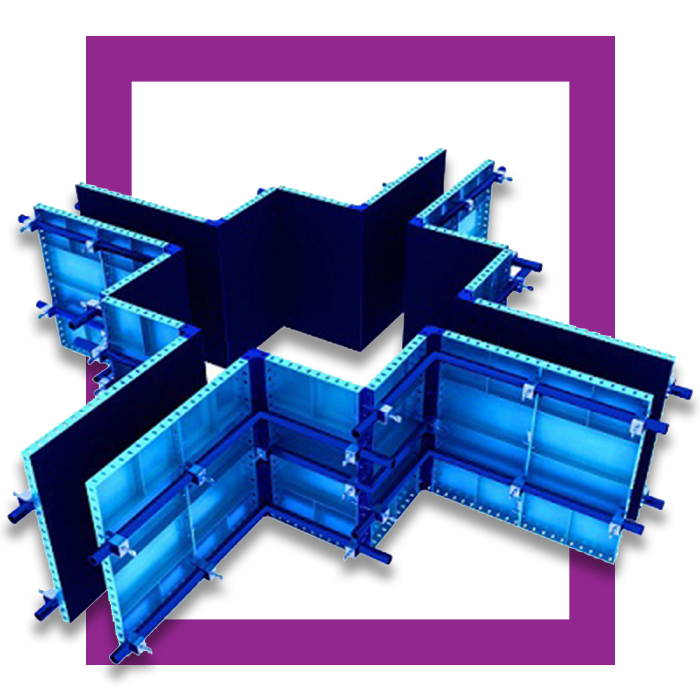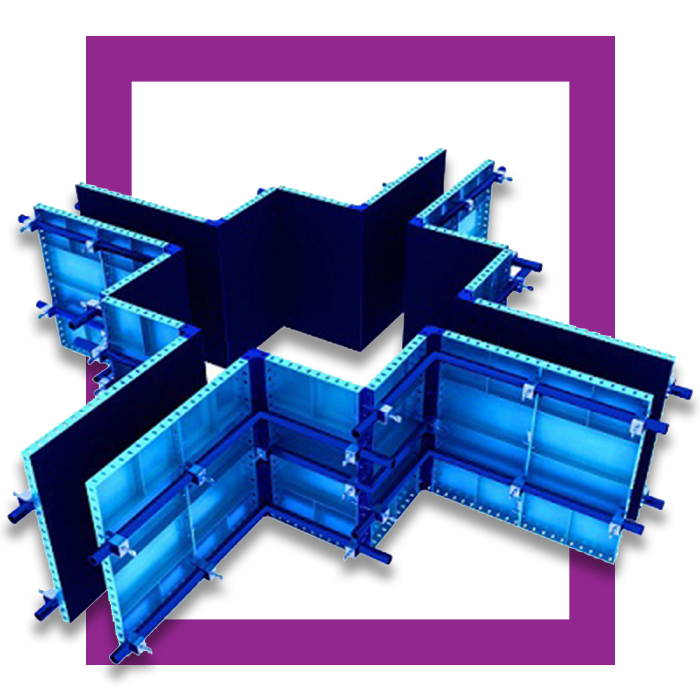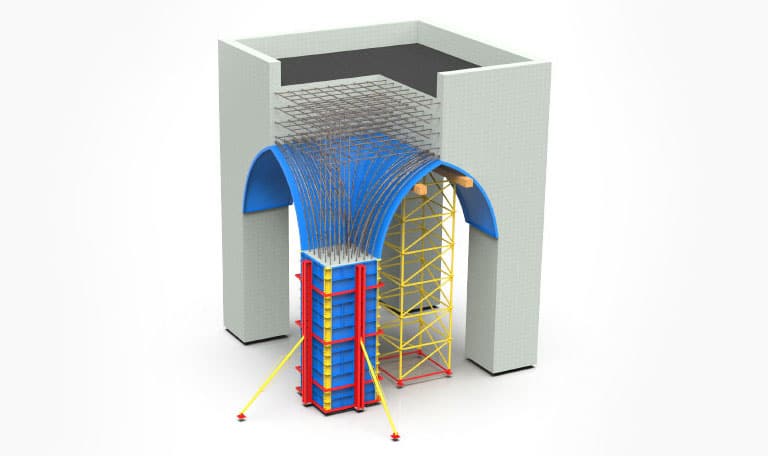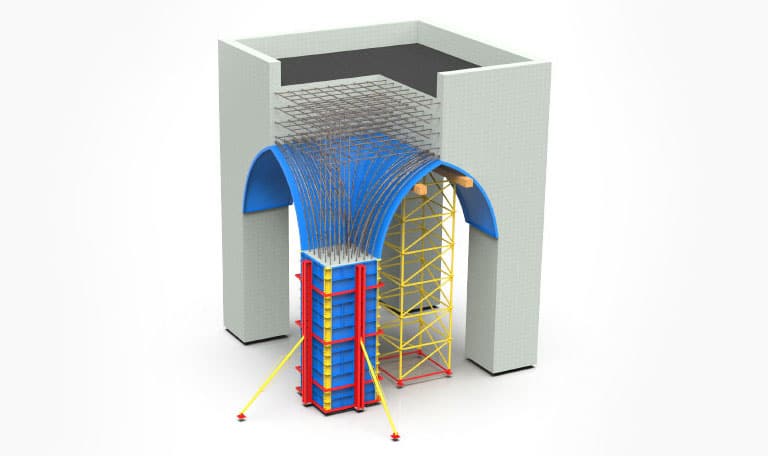 Concrete Formwork / Advantages of Using Metal Concrete Formwork Compared to Similar Products:
One of the greatest advantages of metal concrete formwork is its very high resistance to the pressures exerted by the mass of concrete. Considering the standard weight of one square foot of concrete, which is 150 pounds, thousands of square feet of concrete are used in the execution of a project, whether it's a wall, a column, a bridge beam, and so on. Therefore, the concrete formwork must be able to easily bear the weight of this volume of concrete without deforming. Otherwise, the project will incur significant losses, which is why concrete formwork is predominantly produced from sturdy materials like metal or wood. In recent years, we have witnessed a remarkable production of concrete formwork from materials such as plastic, fiberglass, and resin. However, there is some skepticism regarding the cost and resistance of these materials compared to the role of wood and metal. The classification of concrete formwork depends on its type and place of use. The most suitable concrete formwork for a specific project is usually assessed based on factors such as flow rate, volume of concrete formwork, pressure, and the weight it must bear. For example, the concrete formwork used for flat civil engineering projects varies from 3 to 12 inches, as the maximum amount of concrete is used in the foundation of flat civil engineering projects. Wooden concrete formwork (metal frame with wooden deck) or metal concrete formwork are used for extensive civil engineering projects such as bridges, dams and reservoirs, one-sided and two-sided walls, etc., due to their ability to withstand heavy loads. To bear the weight of thousands of pounds of concrete (for the construction of bridge piers or tall buildings), a concrete formwork with a height of about 12 to 20 feet is required. This is because this massive weight must be supported by these concrete formworks, where the type of stiffeners (belts or profiles) also plays a significant role in the resistance of the concrete formwork.The next case is the high repeatability coefficient of metal concrete formwork. The metal concrete formwork is easily cleaned, repaired and stored after each use and at the lowest cost, and is ready for reuse after a complete overhaul. With a little care in de-molding and moving the metal concrete formwork, the useful life of these forms can be significantly increased. Therefore, at present, metal concrete formwork is the most cost-effective product in this field due to the economic status of projects.
Let's learn more about concrete formwork.
– To construct a reinforced concrete structure, fresh concrete must be poured into a metal formwork or various other types of concrete molds. This is done until all the mold spaces are filled, and the concrete sets into the desired shape. One of the most crucial stages in the construction of concrete structures is the formwork process. Therefore, the executor of concrete structures must be fully versed in everything related to formwork, from the equipment used to the specifications and details of dimensions and execution methods. Concrete formwork, which has been utilized in various models such as wooden and metal in civil engineering projects for a long time, plays a significant role. Wooden formwork is cost-effective but, due to the fact that it was always constructed and used on-site by carpenters according to the project's plans, it was time-consuming and had a relatively short lifespan. This type of formwork is very simple in terms of work but can be time-consuming for large projects. Additionally, the plywood sheets used in this type of formwork typically have a relatively short lifespan. Nevertheless, in areas where labor costs are relatively low compared to the procurement of high-yield formwork, it is widely used. On the other hand, wooden formwork is used as a solution for intricate areas alongside other formwork systems due to its high flexibility.
Types of concrete formwork: Concrete Modular Formwork – Circular Concrete Formwork – Special Concrete Formwork
The metal-concrete formwork eliminated most of the disadvantages of wood-based formwork, such as its high repeatability, speed of construction, formwork, and the relatively smooth surface it created. Metal concrete formwork has standard sizes that start from 10 cm wide with multiples of 5 and finally up to 50 cm wide. The standard length of these molds is 1 meter, 1.5 meters and 2 meters for molding columns, often from the outer corners (5 * 5) – (5 * 10) and (10 * 10) and the length of the corners because the seams of the molds and corners Do not face each other, usually choose 1.5 meters.
These molds can be used in different parts of the project such as foundations, columns (in different dimensions), walls and beams due to their modularity. . To control the concrete formwork that closes under bridges or roofs, if the height is low and the volume of concrete is low, a roof jack is used, and otherwise, triangular scaffolding is often used.
For the production of metal concrete formwork, in welded (belt) molds, 3 mil sheet is used for the floor and 5 mil sheet is used for its belts, but in bent molds, it is generally produced with 3 mil sheet. Therefore, the weight of each square meter of welded concrete formwork is 5 cm, 40 kg – 6 cm edge is 43 kg and the concrete form of bent edge is about 37 kg per square meter.
Bent edge molds, although light and durable, are not suitable for walls that require exposure. Due to the fact that due to the bending of the molds (belts), when the molds are placed next to each other, they do not stick together completely, so after concreting and decomposing the molds, the concrete muscles are completely visible.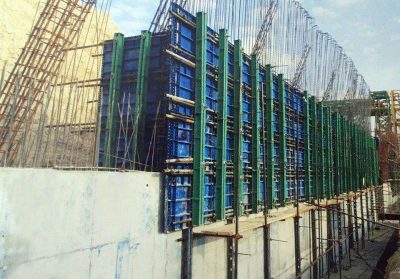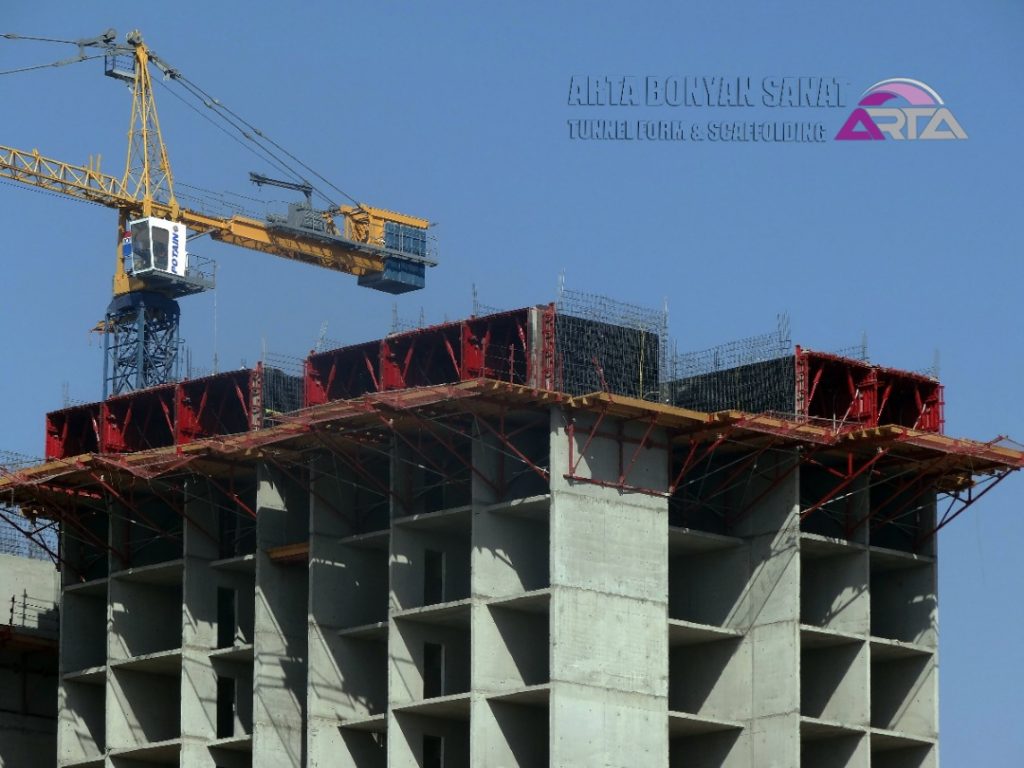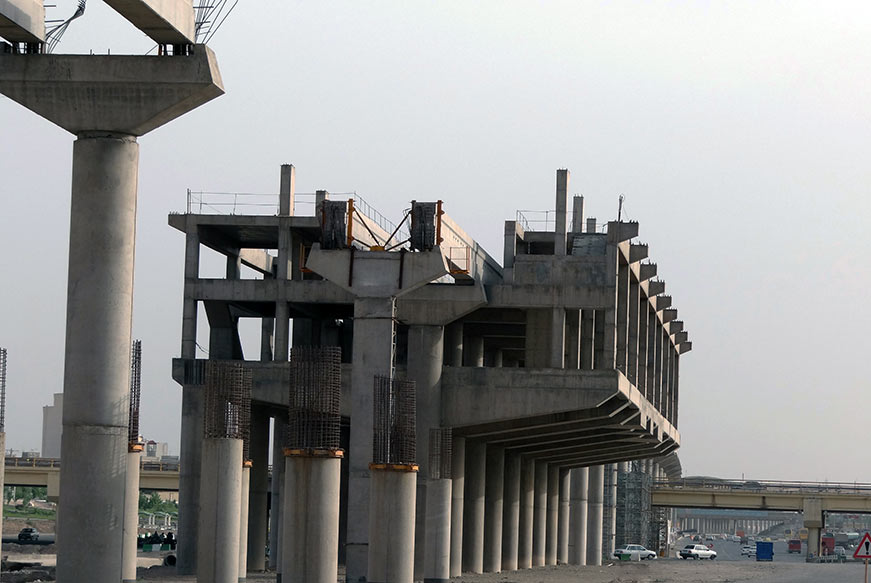 Concrete Formwork / Wood Wood Formwork
The purpose of plywood is to use plywood procedures or compressed propylene instead of sheet metal. These panels are actually a combination of plywood and metal frames and are connected to each other by bolts and special clamps. To take. This type of molding system is in accordance with European standards and is produced with standard widths of 30,45,60,75,90,120,240 cm.This formwork, by placing modules with different sizes next to each other and connecting them to fit the dimensions of the structure, is usable for all parts of the structure such as ceiling, column, beam, etc. In case of having a standardized plan on the floors, the formwork surfaces can be moved by a crane without the need for disassembly.In this molding system, due to the special design of these molds, which do not require a soldering iron and backing, the molding operation is extremely high and, of course, the related costs will be lower. On the other hand, despite their lightweight nature, these formworks can withstand approximately kn/m280 in the one-sided wall system. Ultimately, their lightweight construction, fast execution (due to minimal use of connections compared to modular metal formwork), and smooth, exposed surface are among the main advantages of this system.For safety and high work efficiency, accessories such as access stairs, concrete pouring platforms, and safety barriers are provided on the panels.The variability of column sections in this formwork system is another distinct advantage compared to other systems. With the use of these panels, it is easily possible to construct columns with sections ranging from (20*20) to (120*120). Considering that the fully finished cost of this system is much higher in our country and it lacks economic justification for most projects. Therefore, the best alternative is the large modular panel system, which weighs approximately kg/m252. The price difference between these panels and the circular formwork is not that significant, but the execution speed and the smooth surface of the poured concrete are significantly higher with the modular formwork.Insights on Concrete Formwork from the Perspective of a Professional Formworker:Creativity and professionalism in formwork significantly impact the speed of execution, the quality of the poured concrete, and cost reduction. Therefore, a formworker's perspective on concrete formwork should extend beyond that of a simple tool. Creativity and work experience in a 1000-square-meter project have resulted in a minimum of 30% cost reduction in formwork. For formwork of ceilings with a height exceeding 4.5 meters, where using a ceiling jack is problematic, it is imperative to employ alternative support methods Triangular brace "Scuffle" or Hammerhead beam Star-shaped. Therefore, a skilled formworker with special creativity, by constructing a unique formwork base, column collar, and metal joist, easily performs the substructure of the concrete formwork and eliminates the need for triangular steel bars. This not only significantly increases work speed and reduces costs but also facilitates worker movement in the project due to the open space. Additionally, it naturally makes the disassembly and relocation of tools easier. In fact, it can be acknowledged that the creative performance of formwork can enhance the efficiency of concrete formwork beyond its standard capabilities.Formwork typically uses steel pipes for backing and aligning the concrete mold. However, using 40*80 profiles is much more favorable compared to steel pipes due to their larger contact surface with the concrete mold and they offer other advantages as well. In contrast to steel pipes, fewer profiles are needed. For instance, in a 6*3 meter wall, where 6 branches of steel pipes would be required, a maximum of 4 profile branches would suffice. Additionally, the number of bolts used for securing the concrete formwork is lower since they are placed at intervals of 1.5 meters square. This ultimately speeds up the formwork process, reduces the number of perforated concrete forms, and prevents unnecessary waste. concrete metal formwork In formwork for beams and slabs, this becomes evident, as in the substructure of the concrete formwork with profiles, due to the high resistance of the profile compared to steel pipes and the larger contact surface with the crosshead of the ceiling jack, the number of Ceiling Jack One will be consumed for every 1.20 meters.The time required for formwork and the number of personnel needed depends on the type of formwork projects. It's best to first mention the various types and then delve into the details.
Types of form-work with metal concrete form-work:  Foundation Footwork  Column Footwork (Rectangular, Circular, and Polygonal)  One-Sided and Two-Sided Wall Footwork  Beam Footwork  Concrete Slab Footwork Capital and Special Plan Footwork
In addition to the type of formwork, the project's location (in terms of space constraints) and the availability of facilities such as tower cranes and hoists also play a significant role in formwork efficiency. A skilled formworker can complete 20 square meters per day. concrete formwork Mount it for foundation and column formwork, while this amount may vary depending on the complexity of the formwork and the experience of the formworker. One-sided Wall Formwork In an ideal scenario (due to the labor-intensive nature of concrete formwork), the maximum would be 10 square meters.
In execution Double-sided Wall Formwork The formwork speed increases by 1.5 times compared to one-sided walls (meaning a skilled formworker can complete up to 15 square meters per day). In the case of capital and special formwork, this figure can reach up to 1.5 square meters per day. Furthermore, the time taken for disassembly is approximately half the time required for assembly.All the mentioned factors apply when using modular formwork. In the case of employing large panel formwork, the construction speed is higher (approximately 25 square meters per day per worker) and the quality of the poured concrete will be significantly superior compared to modular formwork.
Factors affecting the extension of the lifespan of concrete formwork:  Proper and systematic assembly and disassembly of the formwork.  Adequate packaging and handling between floors.  Pre-greasing with specialized formwork oil (do not use diesel fuel).
General Points in Concrete Pouring for Concrete Formwork:
During concrete pouring, the following points regarding concrete formwork are crucial:  The surfaces of the formwork and the dimensions of the forms must be adequately adhered and connected to prevent the leakage of concrete, which can result in voids on the surface of the concrete. Before concreting, the molds should be checked in all vertical and horizontal directions and make sure of the strength of the back straps of the concrete mold, the handles and the supporting beams of the concrete mold. At the time of concreting, the forms should be continuously controlled and if necessary, they should be adjusted or strengthened. Before concreting, all the internal parts of the concrete mold should be checked and it should be cleaned from any extra objects, such as wood chips. If the concreting height is more than 1.5 meters, means such as metal gutters or rubber pipes should be used to prevent the separation of sand grains and concrete sap. When vibrating the concrete, the end of the vibrator should be lowered as much as possible and even the previously poured concrete should be vibrated up to a maximum of 20 cm. It should be noted that vibrating the pre-cast concrete, especially if the concrete is relatively hardened, may cause the concrete form to open and break, especially in the case of walls and concrete. It is reminded that vibrating the previously poured concrete will not harm the concrete if it becomes plastic.7- When concreting is done with a pump and from the bottom of the concrete mold, it should be noted that the mold is filled with concrete at a high speed to prevent it from hardening before the concrete mold is filled. If the power of the pump and the amount of concrete pouring is low enough that the concrete starts to set, a lot of pressure will be applied to the inner surfaces of the concrete mold and it may cause it to open or break.
Types of modular concrete molds
The types of modular concrete molds produced by this company are:
Concrete mold modular panels with 3mm top sheet whose longitudinal edges have double bends with 5cm and 6cm edges (double bend modular concrete mold or Aras design).
Concrete mold modular panels with 3mm top sheet, with side straps 5cm wide and 5mm thick (concrete mold with 5 edge straps).
Concrete mold modular panels with 3mm top sheet, with side belts 6cm wide and 5mm thick (concrete mold with 6 edge belts or Bozarjamhari design).
It is worth mentioning that the punch and belts of the above panels are the same as the punch and belts of other producers. Modular panels of concrete molds are produced with a width of 10 to 50 cm and a length of 100, 150 and 200 cm, and the dimensions of the concrete molds can be changed according to the customer's request.
Double bending concrete mold:This type of concrete mold consists of sheets 3mm in length100 and 150 and 200cm and wide10 To 50 cm (with an increase factor of 5 cm in width) that the edges of the sheet are doubled along with a brake press, and then their top and bottom are completed with double bending belts and from simple belts of thickness 3mm is used for stiffener. This type of concrete mold has higher strength and durability due to the double bend in the edge of the wings..
Belt or welded concrete mold:This type of concrete mold consists of a flat sheet with a thickness of 3 mm for the bottom of the mold, 2 longitudinal punched straps of 5 mm sheet, 2 transverse punched straps of 5 mm sheet, a number of simple straps of 3 mm sheet as a stiffener or in the heart.This type of concrete mold consists of a flat sheet with a thickness of 3 mm for the bottom of the mold, 2 longitudinal punched straps of 5 mm sheet, 2 transverse punched straps of 5 mm sheet, a number of simple straps of 3 mm sheet as a stiffener or in the heart.
The outer corner of the bent edge:These corners are used to connect two concrete forms with a right angle. So that they cover the outer parts of the concrete surface and are usually used to mold the columns and connect the putter floor molds to the hangers in the beams.The angle of these corners is 90 degrees and has a chamfer of 1.5 x 1.5 cm. The dimensions of these corners are usually (5×5) (5×10) (10×10) and they are made at heights of 100, 150 and 200 cm.
inner corner These corners are used to connect two concrete forms with a right angle. so that they cover the inner parts of the concrete surface and are usually used for molding the inner corners of the walls and connecting the hanging beams to the concrete slab. The angle of these corners is 90 degrees and the wing dimensions of these corners are (10×10). And they are made in heights of 100, 150 and 200 cm